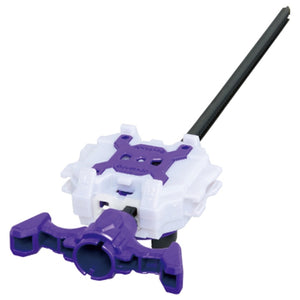 Genuine Japanese Takara Tomy 
Takara Tomy Beyblade BURST B-112 Long Light Launcher Dual Spin
Compatible with all Burst Series Beyblades.
-Spins both Left and Right
Not compatible with Metal Fusion/Fight/Fury/Masters, Shogun Steel and Zero-G Beyblades.
This launcher is ripcord not string.  It's intended for players who want powerful launchers without worrying about the string getting caught in the spring when the pull is too powerful.  Due to the small size of the launcher, a grip would work well for better controlled launches.